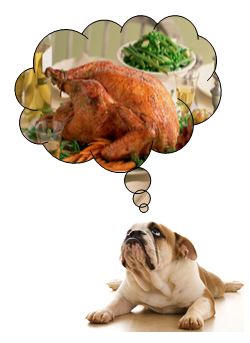 Pets Will Be Thankful
if You Avoid These Food Temptations

(CORRECTION: It was published in the Marlton Advocate at the bottom of this article that FUNanimal Pet Services is located in the Marlton Plaza. While we do frequent there and participate in a dog training club at Fresh Pet, our business is not located there. Please see "Contact Us" for more information. There has also been a correction to the "Never give your pets... Food Chart" at the bottom of the page.)


Ah, the delicious scents throughout the house on Thanksgiving Day! Now imagine if your nose was 10,000 times more powerful, how would you feel?
Our furry companions will be using all the tricks in their book to make
you "accidentally" drop some food on the floor. However, be strong and do your pets a favor by avoiding these Thanksgiving temptation pitfalls!
There's nothing like fresh baked goods!
Don't let those puppy eyes persuade you to drop a piece of raw dough on
the floor though… it could actually rise in your pet's belly, causing a tummy
ache or worse! You also don't want to let them lick the cake batter off the spatula for salmonella risks and of course chocolate can make your pet very sick.
Be sure the turkey or any meat you sneak under the table to your pet is ALWAYS boneless! In fact, avoid giving any cooked bones to your dog for they often splinter causing various internal injuries.
While those dishes with herbs such as Sage are so tasty to us, it can cause stomach upset and central nervous system problems for your cat.
Pets often don't know when to stop when presented with a large amount of delicious options. Too much of the yummy stuff will cause an upset stomach, a messy behind and may contribute to organ damage or other health problems.
Seal up that recycling and trash bin!
That piece of aluminum foil covering the turkey, the piece of wax paper with raw meat remnants, the plastic wrap covering the green bean casserole, and the toothpicks removed from the ham are just some of the dangerous items your
pet will be attracted to. If ingested, you will likely be spending Black Friday at the vet.
Never let your pet eat:
Chocolate

Avocados

Chives

Xylitol (a sweetener in many products, check product labels)

Grapes

Onions

Salt

Alcohol/Beer

Raisins

Garlic

Macadamia & Walnuts

Tobacco
Think your pet ingested something bad?

ASPCA Animal Poison Control Center:
888-426-4435