ABOUT US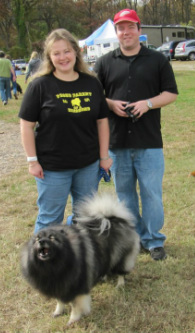 FUNanimal Pet Services prides itself on providing peace of mind for loving pet owners when they can't be with their furry, scaly or feathery friend. In our own search for pet care for our beloved dog, cats (one of them a diabetic kitty), ferret and turtle we simply could not find our ideal vision of pet care available in our area, so we're taking the initiative to create it ourselves!
Being life-long animal lovers, we've lovingly cared for a variety of animals such as dogs, cats, birds, ferrets, rabbits, rats, hamsters, guinea pigs, ducks, fish, turtles, snakes and lizards. We are comfortable caring for any type of pet! We also support and have lots of experience with "Trap-Neuter-Return" for the humane population control of feral cats.
With many years of experience as a veterinary assistant combined with being a special needs pet caretaker, we're happy to provide specialized care for your special needs pet or your recovering pet.
FUNanimal Pet Services is proud to promise to spend quality time with your pet when you can't. Your pet will have a fun and stimulating time in the care of FUNanimal Pet Services. You will even be able to see for yourself with our provided web cam!

We are happy to also combine Stacie's 12 years of experience being an adult (human) trainer with her experience in positive reinforcement dog training to provide a fun and educational approach to dog training. She has achieved many performance titles with her dog, Clancy, including the honorable CDX (Companion Dog Excellent) and RAE (Rally Advanced Excellent) titles. They have fun competing in Conformation, Rally Obedience, Obedience and Dock Diving. Clancy also knows Agility and perhaps one day will compete in that, too. Clancy is also a CHAMPION TRICK DOG, a Therapy dog and also a Service dog. Stacie and Clancy volunteer at nursing homes, schools, hospitals and the like brightening up the day of many people every month through happy greetings and trick show performances. Stacie became a Certified Trick Dog Instructor in December 2013, maintains a dog blog to encourage others to enrich their dog's lives (www.KeesOfDogsDelight.com), features Clancy's dog tricks on www.FluffyDogTricks.com and often writes a pet column for the Marlton Advocate.
---
Stacie, Jeff and "Clancy"
-- To learn more about Stacie & Clancy, visit the "About Us" page on their Dog Blog! --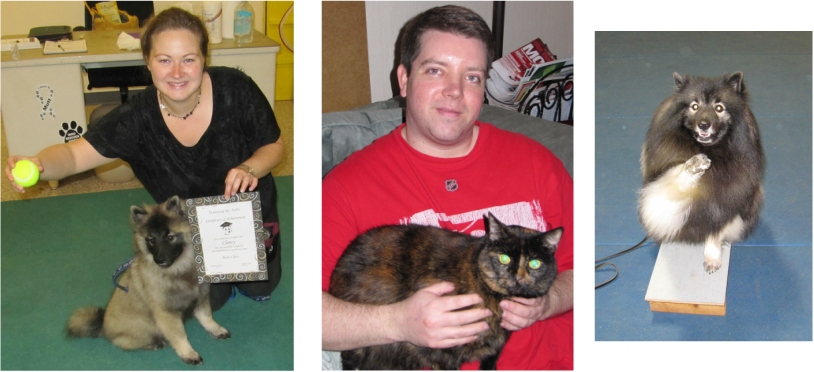 Past Events You May Have Seen Us At:

Charles County Public Library in La Plata on July 7, 2016 at 2 pm. Clancy performed a dog trick show with volunteers from the audience!

FUNanimal demo dog, "Clancy", performed tricks live on TV on "Good Morning Washington"! Here's the link for his segment: http://wjla.com/features/good-morning-washington/watch-clancy-the-talented-service-dog
​
Bow Wow Village's Dog Enhancement Center Grand Opening Celebration on February 13, 2016 at 10:45 am. Clancy performed a dog trick show with all of his props!

Capitol Pet Expo, May 16, 2015, 10am - 6pm at Showplace Arena in Upper Marlboro. Stop by the FUNanimal Pet Services table near the stage and say "hi"! Watch the FUNanimal Demo Dog "Clancy" perform a trick show and learn how to teach your dog a couple of the tricks following the performance! Stage time at 3:15pm! Afterwards, come to our table to meet Clancy and get a picture with him as he gives you a high five!

Maryland DogFest! April 11 & 12, 10am - 4pm at Charles County Fairgrounds. Stop by the FUNanimal Pet Services table and say "hi"! Watch the FUNanimal Demo Dog "Clancy" perform trick shows and learn how to teach your dog a couple of the tricks following the performance!

Cherry Blossom Cluster Dog Show - April 18 & 19, 8am - 4pm at Maryland State Fairgrounds. We will be in the Obedience ring on Saturday and in the Rally ring on Sunday. If you're interested in learning more, please Contact us for more information!

Thursday, October 16th, 12pm - 4pm: National Feral Cat Day 2014 event! Come join us to discuss how we can help the community cats in our area. Forum discussion, resources, networking, presentations on Trap-Neuter-Return, how to help kittens, and build cat shelters. More information: Feral Cat Day Forum & Presentation


Sunday, August 24th, 12pm - 4pm: Get a high 5 and some doggie kisses from Clancy at the 3rd Annual Puppy Plunge at Camp Letts in Edgewater, MD (4003 Camp Letts Rd, Edgewater, Maryland 21037). This event supports the Anne Arundel County SPCA. Though we won't have a table at the event this time, be sure to look for us and say "hi"! Please consider pledging ANY dollar amount for Clancy taking the "plunge" into the river here: http://SpcaPuppyPlunge.kintera.org/funanimalpet This tax-deductible donation benefits animals in need via the AASPCA. Bring your dog and family for some dog-gone old fashion fun! Thank you for your support!

Saturday, August 16th, 10am - 1pm: "Back to School Bash", Bowie Gymnasium, 2700 Northview Dr, Bowie, MD (across from Macy's) -- Stop by the FUNanimal Pet Services table and Clancy will show off some cool tricks!!!



Tuesday, August 5th, 5pm - 8:30pm: "National Night Out" party! 6707 Groveton Drive, Clinton, MD (off of Brandywine Rd) -- Bring the kids and watch Fancy Chief Clancy perform a dog trick show (likely around 7pm). There will be free food and demos from the police department such as their K9 unit. Bring your dog to the FUNanimal Pet Services table and we'll help you get started on teaching them a new trick!!!
Sunday, August 2nd, 4pm - 6pm: Councilman Mel Franklin Family and Friends Day, Showplace Arena, Upper Marlboro, MD -- Stop by the FUNanimal Pet Services table with your dog and we'll help get you started on teaching them a new trick!!!