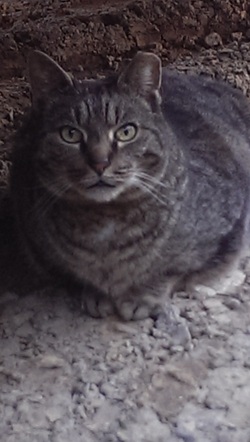 No More Kittens – The Best Mother's Day Gift
By: Stacie Beasley, FUNanimal Pet Services
Ah, it's finally truly Spring! Mother's Day is around the corner and we are deep into kitten season. Why not give a female cat the best Mother's Day gift of all? The gift of not ever having to bear kittens!
After all survival factors are considered, one stray female cat and her offspring may leave you with HUNDREDS of cats outside. Nip it in the bud right away with the most humane and efficient way to control the outside "community cats" (also known as feral cats) population with Trap – Neuter – Return.
Cats are humanely trapped and taken to a veterinarian, where they are vaccinated against Rabies and spayed or neutered. At the same time while they are asleep, they have the very tip of their left ear removed in order to visibly identify that it has been altered. This prevents the same cat from being trapped for TNR again or from mistakenly being brought to a shelter.
There are many low cost spay and neuter options within 20 miles of the Marlton area! Not only do they offer many affordable spay/neuters and vaccines for all pets, but many of them even have "feral cat specials" for as low as $35. See below for local resources.
Are you helping to care for the community cats of Marlton or are interested in helping feral cats? Please join the "Marlton AdvoCATS" Yahoo! Group to network, get and share ideas, share stories and maybe even volunteer to help with TNR. Visit
www.groups.yahoo.com/groups/MarltonAdvoCATS
or call 301-257-0755 for more information.
T-N-R information:
www.alleycat.org/TNR
www.washhumane.org
– Programs & Services/Community Cat Resources
Local Low Cost Spay/Neuter:
·
FREE FERAL CAT SPAY DAY IS MAY 27th
–
created by Alley Cat Rescue in Mt. Rainier, MD
For a list of participating veterinarians, please visit
http://www.saveacat.org/vetslocation.html
(spots are limited, additional charges for vaccinations, etc. may apply)
The Spay Spot* – Upper Marlboro
www.Spayspot.org
301-254-8151
*Feral Cat special for $30
· Spay Spa & Neuter Nook*- Davidsonville
www.SpaySpa.org
443-607-6496
*Feral Cat special for $35
· Washington Humane Society* – D.C.
catnipp@washingtonhumane.org
202-608-1356 x 101
*CatNiPP Feral Cat special for $45
· Humane Society of Charles County - Waldorf
www.humanesocietycc.org
301-645-8181
Low Cost Shots Schedule and Spay/Neuter assistance:
· SPCA/Humane Society of Prince George's County
http://www.pgspca.org/
(Stacie Beasley, a Marlton resident and owner of FUNanimal Pet Services, is experienced with TNR. If you have any questions or to enter her and Cinda Bennett's monthly drawing for a free TNR, please call her at 301-257-0755.)