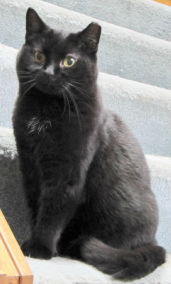 If you see a kitty outside with the tip of their left ear cropped, it has been "Trapped, Neutered and Returned".
Stray Cats? T - N - R is the Solution! Join Us on Oct. 16
Whether you love them, hate them, or are somewhere in between, cats are everywhere! Since cats can produce up to 5 litters per year, in 7 years, one female cat can lead to about 400,000 more cats! 70% of those cats end up being euthanized at the animal shelter and if they are feral (cats that have had little human interaction whom have reverted to wild behavior), they are immediately put down since they are not easily adoptable. This costs PG County hundreds of thousands of dollars a year! So what is the most effective, humane and cost-effective solution? T-N-R ...
Trap - Neuter - Return.
It begins with humanely trapping the feral cat and then bringing them to a low-cost spay/neuter facility that is familiar
with TNR, such as "Spay Spa & Neuter Nook" (www.SpaySpa.org). They are located in Davidsonville, MD and even lend out traps! For just $35, their "Feral Special" includes sterilizing , ear-tipping the cat and rabies vaccination.
"Ear-tipping" is snipping off the tip of the left ear which identifies the cat as being part of a controlled cat colony. Usually Animal Control will leave these cats be, and resources are saved by knowing that cat has already been sterilized. The cat is then returned back to the place where food and shelter are offered outside by a caregiver.
TNR offers the most realistic and humane permanent reduction of feral cats, eliminates nuisance behaviors such as spraying and fighting, reduces the amount of kittens that take up space in shelters in turn giving friendly adult cats a better chance of being adopted and saves Animal Control and tax payers money. To learn more about how you can
help Marlton's feral cats, see below!
FUNanimal Pet Services in conjunction with Look Sharp Pet Essentials will host a free presentation/workshop on TNR on October 16, 2013 in honor of National Feral Cat Day, a day to call for an end to the killing of cats in animal control shelters, the leading documented cause of death for cats in the United States.
WHO:
FUNanimal Pet Services with Look Sharp Pet
Essentials
WHAT:
National Feral Cat Day Trap-Neuter-Return
Workshop
WHEN:
Wednesday, October 16, 2013 from 6:00pm - 7:45pm
WHERE:
Fresh Pet training room - Marlton Plaza Shopping Center (9534 Crain Hwy, Upper Marlboro, MD)
CONTACT:
Stacie at FUNanimalPet@gmail.com
Please RSVP by October 13th.
Light refreshments will be provided.
For more information about National Feral Cat Day, visit
www.alleycat.org/NFCD