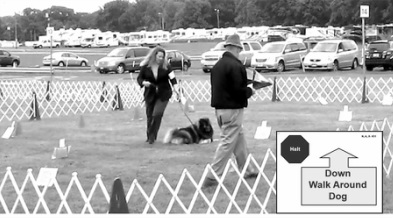 FUNANIMAL PET SERVICES OWNER COMPETES
IN AKC RALLY® NATIONAL CHAMPIONSHIP
By: Stacie Beasley, FUNanimal Pet Services
More Than 370 Dogs to Participate in Inaugural Event
Sit. Down. Stay. Good dog! On March 28th, Harrisburg, Pennsylvania was filled with some of the most well behaved dogs in the nation, all aiming for the top spot at the first ever AKC Rally® National Championship. FUNanimal Pet Services owner, Stacie Beasley and their demo dog, a young Keeshond named Clancy, were among the contenders.
Rally is a relatively new dog sport that is a lot of fun for both the dog and the handler! AKC Rally® combines elements of Obedience and Agility. The dog and handler move through a course of numbered exercises, all while the handler is communicating with and praising the dog. Rally demonstrates a sense of teamwork and provides an excellent introduction to AKC Companion Events for all dogs (pure-bred OR mixed breeds) and handlers. The sport can also provide a challenging opportunity for competitors in other events to strengthen their skills. AKC Rally® promotes a fun and enjoyable atmosphere for dogs at all levels of competition
or just for any dog owner that is looking to have fun reinforcing their dog's training.
Stacie Beasley and Clancy worked hard last year to qualify to compete against some of the best AKC Rally® dogs in the Novice class from 2013. Dogs and handlers competed for the top spot in the Novice, Advanced, Excellent, and Rally Advanced Excellent classes at this national championship. (
Despite two good scores in the high 90's out of 100 in the Novice class, Stacie and Clancy did not place in the top 10 this time.)
This year, the AKC Rally® National Championship was part of the 2nd Companion Events Extravaganza, which celebrates the top dogs in AKC Companion Events. The multi-day event in Harrisburg featured Championship events for Agility and Obedience in addition to the new national championship for AKC Rally®.
Join Stacie Beasley to go through a Rally course with your dog while learning how practicing Rally can benefit you and your dog. Please RSVP.
(Stacie Beasley is the owner/operator of FUNanimal Pet Services. See ad on page 2. For more information and videos of Rally, please visit her blog at www.KeesOfDogsDelight.com. To RSVP to her free Introduction to Rally workshop, call 301-257-0755 or email FUNanimalPet.com.)