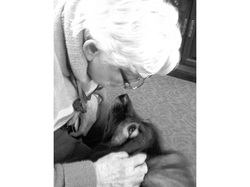 Feel Good and Make a Difference With Your Friendly Pet!
By: Stacie Beasley, FUNanimal Pet Services, LLC
Imagine those in constant pain lying alone in a hospital bed or in Hospice, and then for a little while, being distracted by a warm, friendly and furry animal. Every stroke of that loving pet's fur brings serenity, with each warm lick of the tongue brings smiles, and fun memories are triggered by conversations of past beloved pets.
Kids with reading difficulties feel more comfortable reading out loud to the calm non-judgmental animal lying in front of them. College students take a mental break in between final exams by sitting with and stroking the therapy pet. Dementia patients and the elderly in assisted living facilities are delighted by the visiting pets and enjoy chatting about their pets of past and present. The mental health benefits and developmental benefits of a therapy pet are numerous and real.
As little as an hour of your time each month with any kind of friendly and well-mannered pet as a "Therapy Pet Team" can bring about these small miracles. Yes, any kind of pet! Of course the dog is most common, but there are therapy cats, ferrets, guinea pigs, rabbits iguanas and even tortoises! There are lists of local facilities that are looking for therapy pet volunteers. One of the facilities that my therapy dog, Clancy, and I visit is MedStar Southern Maryland Hospital. It is so heart-warming to see the impact he has on the patients, visitors and staff. They definitely are in need of more volunteers like us since there are so many different people every day that would benefit from pet therapy. Do you have a friendly pet?
There are a variety of therapy dog organizations you can join. Procedures and costs vary. Pets On Wheels is just a one-time $30 fee for a pet temperament screening (just to make sure your pet is okay with sounds and situations it may encounter), the credentials and to be covered under their insurance during your therapy pet visits.
Donna Sovaiko is the coordinator for our area:
Donna@PetsOnWheels.org
410-935-8000. You may also sign up to volunteer at
www.PetsOnWheels.org
(Stacie Beasley is a Marlton resident and owner/operator of FUNanimal Pet Services. Please contact her at
FUNanimalPet@gmail.com
or 301-257-0755 for questions, comments or suggestions for future pet articles.)