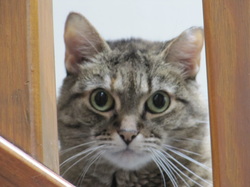 FUNanimal Pet Services wants to help you control the feral cat population around your home!
Contact us for a chance to win a FREE spay/neuter for a feral cat/kitten that you feed. We will help trap your kitty for you, take it to the low cost spay/neuter clinic to get vaccinated, neutered/spayed and "ear-tipped' (for it to be identified it has been altered and vaccinated), keep it for a night to recover, and then return it to your home.

**In partnership with Cinda Bennett and Andrea Stewart**
Thank you Ladies, for supporting this program and all the work you do for it!

Congratulations to Mary Lou, our first winner of the FREE FERAL CAT TRAP-NEUTER-RETURN drawing!

Mary Lou did the right thing for a feral cat she cares about and contacted FUNanimal Pet Services to enter our monthly drawing. "Martha", and her kittens, have been cared for by a vet, vaccinated, spayed and ear-tipped. They will continue to live her natural life outside as Mary Lou continues to provide food and shelter. Thank you, Mary Lou, for helping to control the feral cat population... Thank you to Cinda Bennett for funding the effort... and a special Thank You to Andrea Stewart for volunteering and all of her assistance