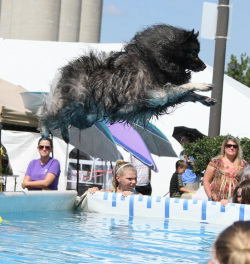 Add a little Spring to your dog's step with field trips
By: Stacie Beasley, FUNanimal Pet Services

Springtime is finally here and it's time to cure your dog's cabin fever! Dogs may seem
content with your love, a walk, and play time, but if given the chance to be out and about to explore a new world, most would enjoy the new adventure.

Before heading out on a field trip, you will have a lot more fun together if your dog is trained and socialized. The more you expose your dog to different environments, the more conditioned and confident they become.

There's an abundant amount of local parks around Marlton to enjoy a stimulating walk with your furry friend. If your pup likes the company of other dogs, you'll find off-leash dog parks in Bowie, Crofton, Dunkirk, and two more just south of Waldorf, White Plains and Turkey Hill.

You can even take your dog out to the ball game! The Washington Nationals, Southern Maryland Blue Crabs and Bowie Baysox often have games where your dog is invited!

There are many dog-friendly events throughout the year for you to have fun with your dog. Coming soon is the annual Maryland Dog Fest, held at the Charles County Fairgrounds in La Plata from March 8 – 9th. With Frisbee dog demos, dock diving, costume contests, a dog talent show and many other activities, there's fun for the whole
family! My own dog, Clancy, will be showing off his tricks in the talent show and will try to break his own breed record in dock diving! Visit www.marylanddogfest.com for more information.

For another doggone good time, take a short road trip to Chantilly, VA to the Super Pet Expo from March 21st - March 23rd. Check out all the activities your family and dog will enjoy at www.superpetexpo.com.

Whatever new adventures you embark on, please remember to be a responsible dog owner. Do not use retractable leashes in crowded places, pick up after your dog and ask other dog owners first if it's okay for your dog to greet theirs.

It's been a long winter, get out and enjoy Spring with your dog!